Responsive Website Builder - Overview
A website is one of the best ways to acquire more leads, sell stuff or present your work online. But creating a good website requires a lot of hard work and time. Not only that, but you also need to understand and follow the latest trends. Features like accelerated mobile pages, Bootstrap and tools like this clearly show that there's a huge focus on mobile users, as that's where more than 50% of all internet usage comes right now.
Then you also have to make sure that your website is responsive and with more focus on offering information instead of being cluttered. That's where 8b comes into play.
Responsive Website Builder
The 8b Responsive Website Builder is a tool that allows you to create websites online without any problem. It allows you to create free websites for any type of content you want. Thanks to the 8b you can create an agency website, portfolio website, gaming, real estate, restaurant, writing website and so on. You can even create an online store if you want. And the clear benefit is that you get immediate access to all the latest technologies and ideas that you can find on the market.
Since this is an AMP powered website builder, it harnesses the true power of accelerated mobile pages. It's really easy to use, adaptable and you can easily revamp or improve your website once you create it. And yes, all websites are featuring Bootstrap, they are fully responsive and customizable at your own pace.
How does the Responsive Website Builder work?
Creating a website has never been easier, and the 8b Responsive Website Builder helps you create amazing websites in just a few minutes.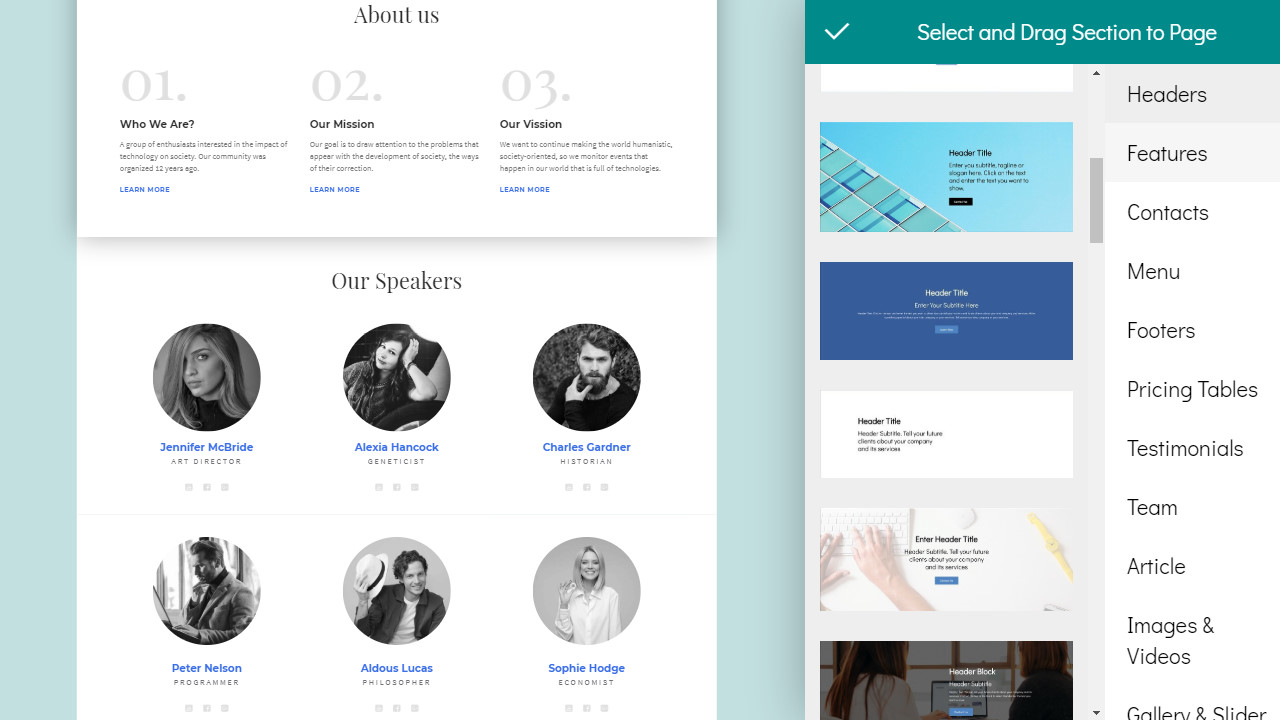 The way it works is very simple:
You first need the type of website that you need to create.
Then you have to add the site name, sign in to your account.
Once that is done, you will enter the 8b interface. Here you will be able to change every portion of your website as you see fit, be it images or content. You can select between multiple styles and you can even have multiple pages for your website too if you want.
The 8b AMP Website Builder requires no coding, so everything is changed visually and in an interactive manner. This way you can be sure that everyone will be able to create a website if they want to. After you customize every part of your website, you can publish it and you are good to go.
Cool Templates
The true power offered by the Responsive Website Builder is definitely its unique set of templates. These templates can be used for just about anything. As we mentioned earlier, you have templates for a variety of industries and website types. You have agency templates, consulting templates, event, hotel, medical, legal, photography and even an e-commerce template that you can start using right away. This really helps a lot and it puts all the support and value you want in your own hands.
Of course, you can easily customize every template if you want. That will make your website unique and you can always continue changing it at your own pace. Or you can just keep the templates the way they are and change the wording to make it your own. You are in control, and that's what really makes the 8b AMP Website Builder stand out!
Pros and Cons
What you will like about the 8b Site Builder platform is that it's free of charge. You can experiment with creating a website without a problem and it works amazingly well. A lot of people that want an online presence don't afford spending a lot of money, so this unique approach is perfect.
You also have lots of templates to choose from. Regardless of what website type you want to create, you can find a template for it. And that's extremely important. Also, the 8b Site Builder doesn't require any type of coding. Since everything is performed visually, you don't need any programming language. And thanks to the user-friendly interface you get to access every feature you need and publish the website very fast. You can change only a few things in the template or spend hours trying to customize everything, and that's all according to your own needs.
Wrapping it up
If you want to create a website but you lack any programming experience, the Responsive Website Builder is a very good option. It's an AMP and Bootstrap powered online website builder, so you have access to all the latest mobile technologies. On top of that, it's extremely easy to use and you will have a very good time accessing and using all these features.
All you have to do is to give the 8b a shot and see how it works for yourself, it's one of the best site builders on the market with comprehensive mobile support!