Excellent Bootstrap Page Layout For Your Service Agency - Review
The internet is continuously changing the face of business and service rendering. One click of the button, and you can find a list of companies offering the products and/or services you seek, where to find them and how to contact them. To be part of this ever-evolving atmosphere, one should have a website. The most basic websites are based on a Bootstrap page layout created with HyperText Markup Language (HTML) which is the standard markup language for the web used in creating web pages, Cascading Style Sheet (CSS) for styling web pages and JavaScript (JS) for interactivity.
Websites have come a long way and with the advent of smartphones, the internet is reportedly accessed more by mobile devices such as phones and tablets. As a direct result, it is even more important for websites to be optimized for optimal functionality on mobile devices.
The amount of load time for a website is another important factor to consider as no one wants to spend precious minutes waiting for a page to load, especially since most of our activities are accessed online. Also, with more than a handful of businesses available to choose from, Search Engine Optimization (SEO) is important to enable clients to find you first on search lists.
Accelerated Mobile Pages
Accelerated Mobile Pages Project (AMP) is an open source library that is used to create seamless fast websites that are optimized for mobile. The AMP project is designed with user experience as its topmost priority. Its features are achieved using AMP HTML which is mostly regular HTML with restrictions and extended properties for optimized performance, AMP JS, which helps to render AMP HTML pages fast and AMP Cache used to render cached pages.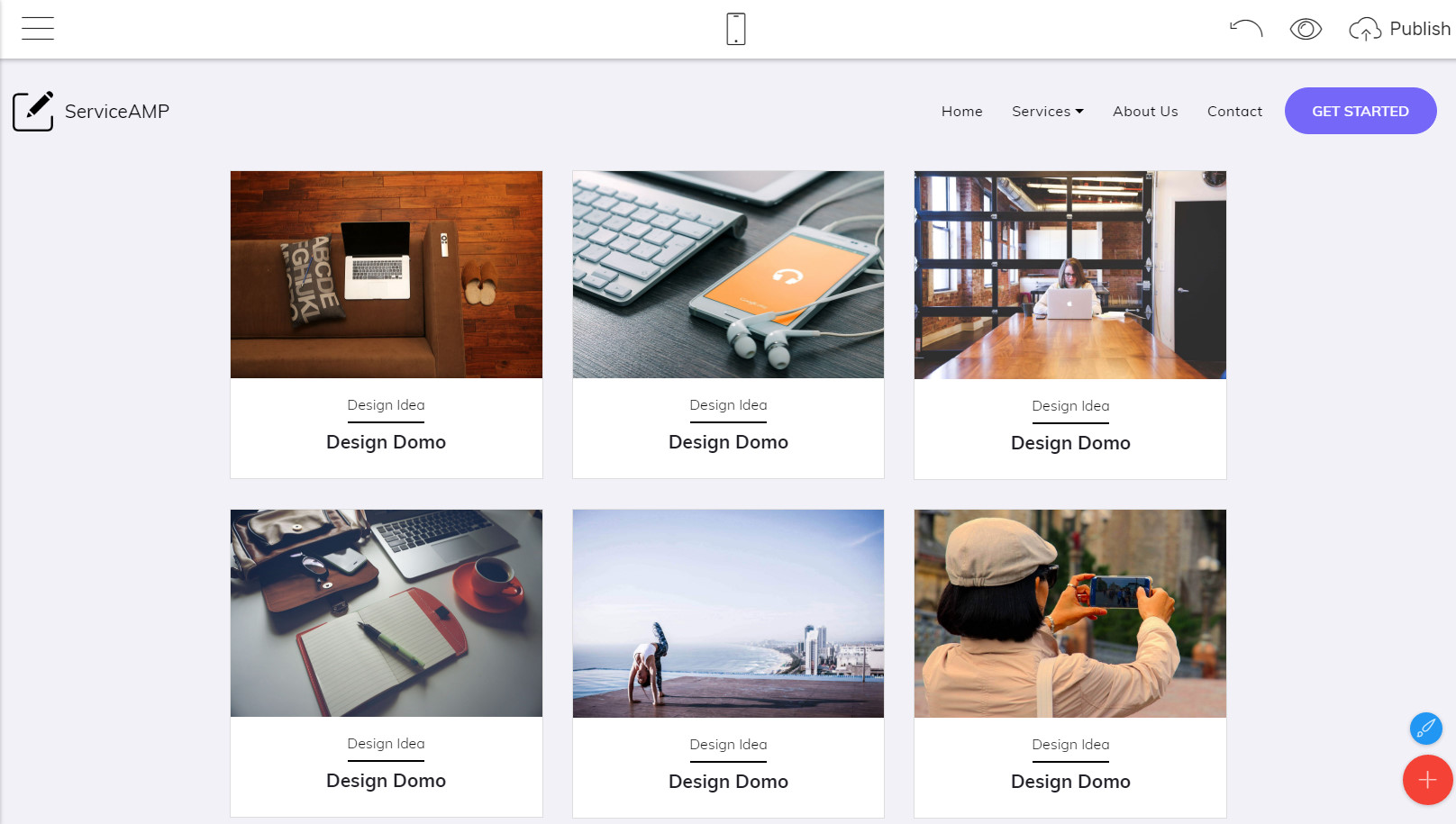 Caching is simply storing data in a temporary storage which in this case is a computer's hard drive. AMP pages are cached so that resources are not loaded all the time when websites are visited especially when there is no change from the server. This improves the speed of the website.
Mobirise Bootstrap Page Layout Generator
Mobirise is a free offline app for creating lightweight websites, landing pages, promotion sites for products and services, portfolios and online resumes. It can be used by novices and professionals. It is a visual website builder; the app is downloaded and used to create web pages with available template blocks by simply dragging and dropping wanted blocks on the page.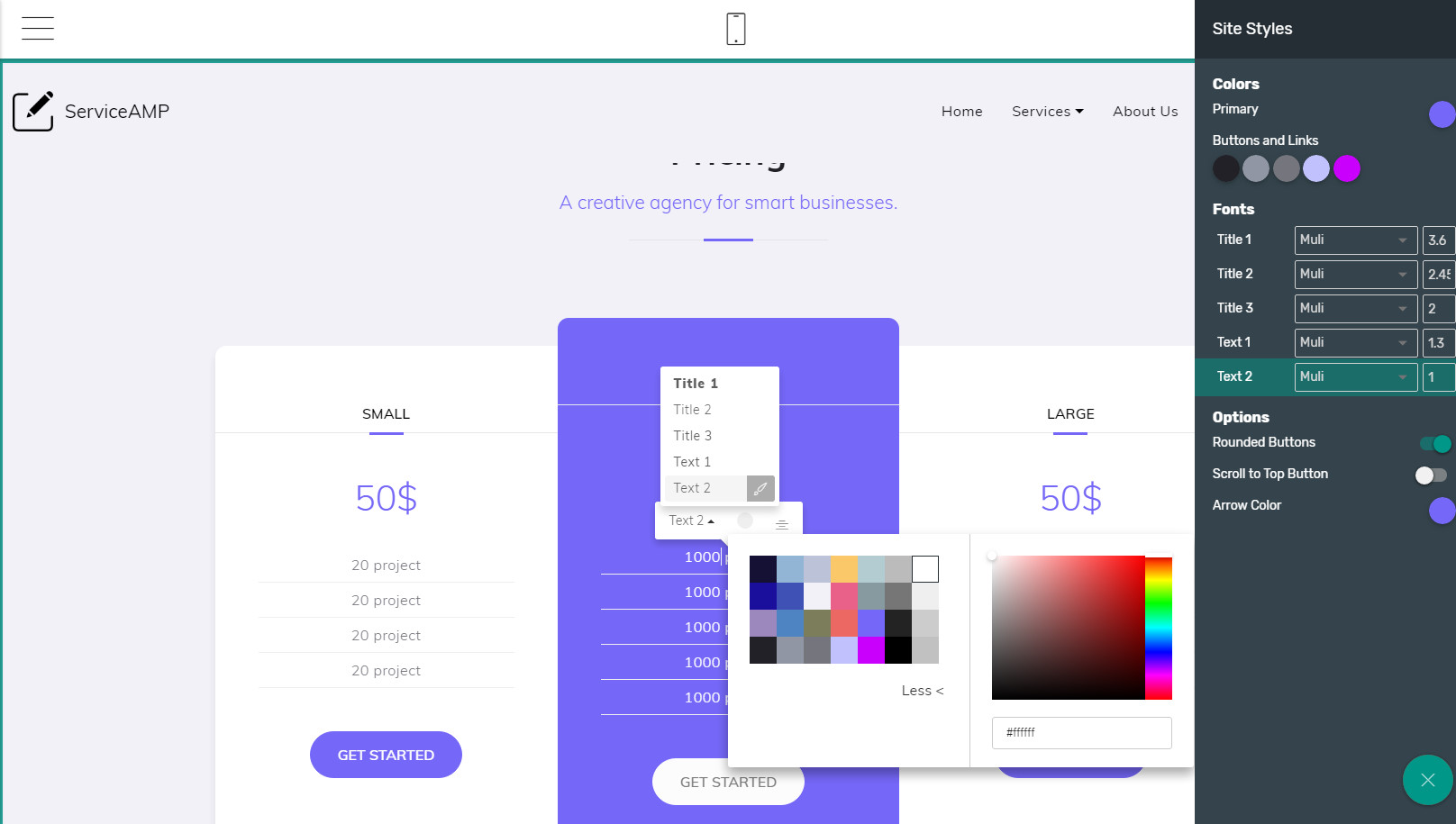 The Mobirise app helps to create sites that are
Modern and visually appealing.
Responsive and scale properly on desktop and mobile devices.
Cross browser compatible.
The app comes fully loaded with icons which can be styled to taste, images and also fonts. Elements like buttons and links can easily be added. A color palette is also available with a wide range of colors. The app also provides a mobile view to see what the site would look like on a mobile device before uploading it.
Mobirise free Bootstrap templates utilize the AMP library and in addition to the above-listed features, these Bootstrap responsive templates are fast, search engine optimized and use the content-first approach.
Bootstrap Page Layout Sections
Mobirise Service AMP multi page Bootstrap template is a carefully put together professional Bootstrap Page Layout with service providers in mind. Its customizable blocks include:
Headers
Headers generally are the first things people see when your site is loaded, an introduction to your site. It mostly consists of the site name and main service.
Features
The features blocks highlight the main features of the services provided by the business utilizing icons and pictures.
Contents
These blocks describe the features in more detail which means more words than icons and pictures.
Team
Shows the people involved in the business
Testimonials
Help to showcase what people have to say about the services received.
Pricing tables
Help categorize different services/bundles and their prices.
Contact forms
Used to contact and reach service providers
Gallery
For pictures of previously completed projects.
Maps
Maps are useful in pinning the physical location of the business on Google maps. This location helps to locate the business
Accordions and footer
Accordions are used to manage information. To avoid a very lengthy page, details are revealed and hidden when the headers are clicked. Footers provide links and shortcuts to important parts of the site and sometimes social media information.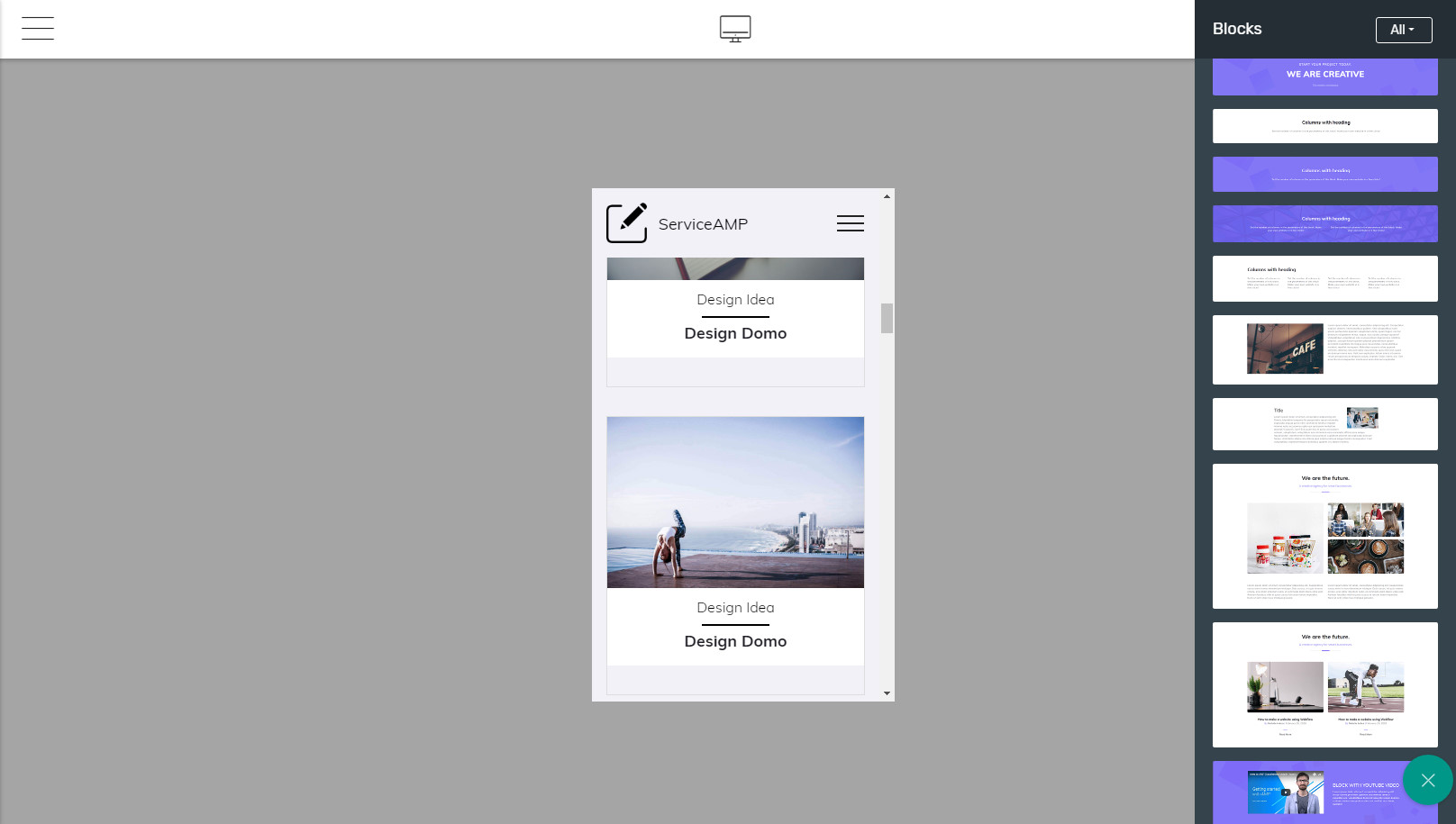 Every block has options with different layouts that users get to pick from and the predominant colors for this Bootstrap Page Layout are white, purple and blue with black and white fonts. These colors are fun but not playful and are also professional. The Bootstrap Page Layout is laid out in full screen and its design is clean and simplistic which makes the appearance modern and easy to use.
Final words
There are three completely built out demo pages included for an agency site, a travel site and an application site that can be modified or used as an inspiration.
In conclusion, the ServiceAMP Bootstrap Page Layout is professional, clean, simple and sophisticated. It is easy to use and provides a wide range of options to help create a site that is unique.
For just $39, you can have sophistication, and simplicity all wrapped in a single package.